Collaboration agreements and research projects with companies in the SE and CIT domains
e members of the Doctoral school of Automatic Control and Computers (SD_AC) within University Politehnica of Bucharest (UPB) have initiated Collaboration Agreements between the faculty of Automatic Control and Computers (A&C) and companies renowned in the design, development and integration of solutions, services and information and control systems that use advanced information and automation technologies, and promote research and innovation in the domains of System Engineering (SE) and Computers and Information Technology (CIT).
The agreements with these companies establish either particular short term partnerships related to the R&D projects carried out in partnership with the university (A&C) or medium and long term collaborations in which the SD_AC students are integrated through: documenting, hands-on training and research stages; solution development and implementing in shared research projects; specializations with logistic and financial support from the company; research activities in subjects proposed by the company.
Collaboration agreements with companies in the SE and CIT domains
IBM-UPB Agreement for free access to Academic Initiative program resources
The company IBM has granted in 2016 to the faculty of Automatic Control and Computers, University Politehnica of Bucharest customized access to the resources of the Academic Initiative, for free. These resources (including cloud access, remote hardware access, software, a.o.) are distributed to the teaching staff and students via a customized, school branded web store, https://pub.onthehub.com/.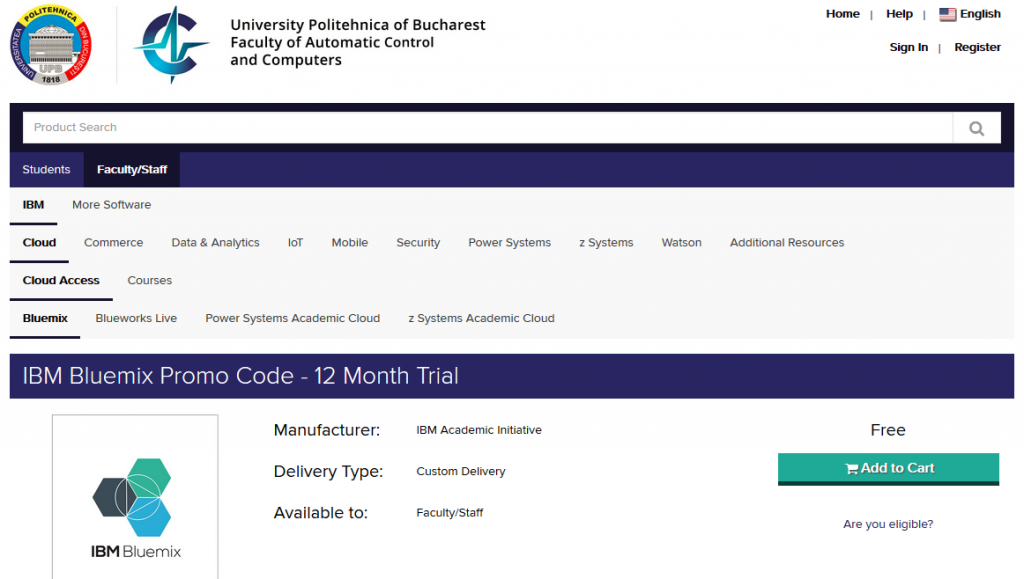 The registration and access validation for the web store resources is exclusively based on the e-mail addresses associated to the A&C faculty: cs.pub.ro, aii.pub.ro, acse.pub.ro, stud.acs.pub.ro and stud.cti.pub.ro.
UPB – IBM Faculty Awards collaborative research project 2016-2018
IBM ww Research has selected in April 2016 the research project "Big Data, Analytics and Cloud for Digital Transformation on Manufacturing – DTM" for funding with 40 kUS$ in the research program Faculty Awards 2016, one of IBM's global University Awards collaborative R&D programs with academia. The project was proposed by a group of researchers from the Department of Automation and Industrial Informatics, A&C, led by Associate Professor Nick-Andrei Ivănescu as scientific director, and is monitored by Professor Theodor Borangiu as technical representative of IBM. The project's duration is two years: May 2016 – April 2018.
Project description
The DTM project will set up a research and hands-on training platform to qualify T-shaped professionals in engineering and business management specialties, contributing thus to the digital transformation of production companies. The DTM project fosters innovation in Manufacturing Value Chain by promoting new lines of scientific research applied for the "Digital Factory of the Future". The developments will use IBM technologies: Big Data, Analytics, IoT Cloud and SOA.
The project will finalize a pilot platform for Higher Education and academic research – a smart, digital and networked factory, with two interconnected components: (1) Multiple-resource production cell and (2) Information system for client orders' management. The implementing solution uses:
Distributed Intelligent Control at MES and shop floor level, based on ICT frameworks: control distributed over autonomous intelligent units and IoT, multi-agent system (MAS, JADE), holonic manufacturing, cloud manufacturing.
Service Oriented Architectures used to implement MAS.
Manufacturing Service Bus (MSB 2.0) integration via ESB adaptation for manufacturing enterprises.
Research contributions in major areas: Cloud and virtualization techniques (Bluemix, CloudBurst); Big Data (management of customer orders, sensory data, HADOOP); Analytics, optimization of production planning and resource allocation (ILOG); SOA for vertical integration (WebSphere); Security for product-driven automation with Intelligent Products (Tivoli).
The DTM project will make available a real pilot platform for research and skills formation in the domain of Digital Manufacturing; it will materialize the actual vision about the overall architecture and core technologies to: a) establish a comprehensive, Internet-scale platform for networked production; b) allow IoT scenarios for industrial production.
This pilot platform will promote new technologies from IBM: Cloud Manufacturing; Big Data processing in industrial IoT for: customer order management, resource instrumenting, risk management, embedding intelligence on products; Analytics for batch optimization; SOA for enterprise integration.
After project completion, the platform will be used for tests, POC, solution development and skills in the manufacturing management and digital control (industry, R&D, Higher Education).